The manufacturing industry had a year like none-other in 2020; declines in production, forced closures, dips in employment levels and adapting to new ways of working for office staff.
However, the manufacturing industry has reasons to be relatively optimistic. Demand for products is increasing, requiring new and innovative approaches. Certain states in the US have seen significant growth. In the UK, manufacturing is growing at its fastest rate for almost 30 years as the easing of lockdown unleashes pent-up demand, according to a recent survey.
Disruption in the manufacturing industry increases the need for greater agility and workplace improvements. Below we outline ways a modern, well maintained and secure Intranet can assist a manufacturing workforce.

Access to the right policies, procedures and processes
To ensure manufacturing workers understand how they can mitigate risk and meet compliance requirements it's critical to have a tool where organizations can publish, manage and disseminate policies, procedures, work instructions and documentation. Workplace safety has, of course, always been a priority for manufacturers, but it takes on new significance in light of the pandemic. Be sure your factory floor workers know the latest health and safety regulations
Push important updates to your workers to maximize compliance rates. Get your employee to confirm that they have read that important policy using required read functionality
Keep track of changes with version control
Find files fast using search with intuitive categorization and metadata
Avoid local copies of out-of-date information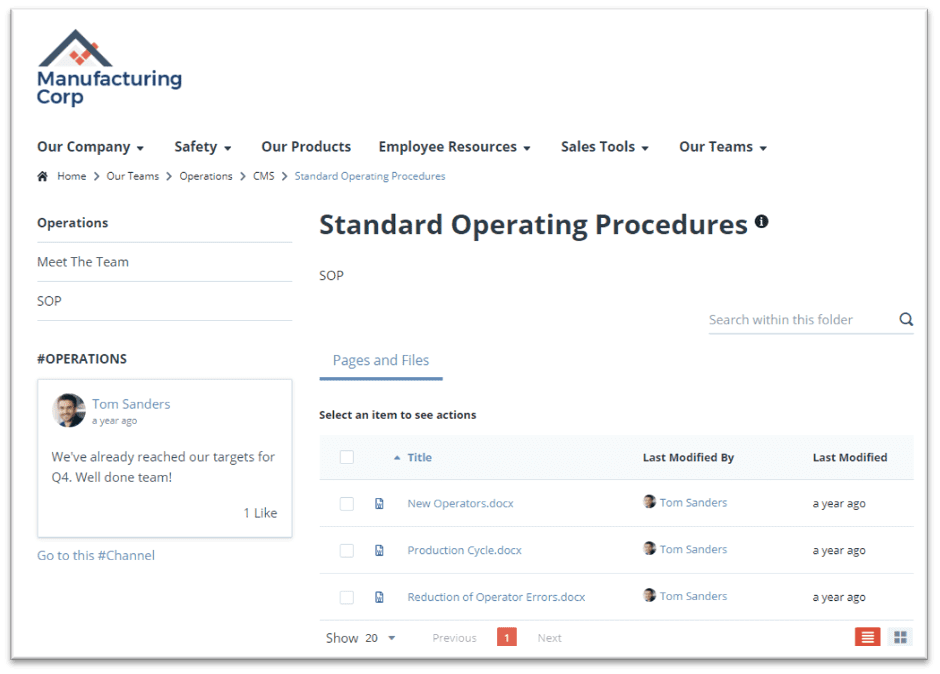 Find colleagues with particular expertise and skill
Find the specialists, fast - make it quick and easy for management, technicians, engineers, quality controllers and administrators to find information and connect to their colleagues with a searchable knowledge base and people directory.
Build rich people profiles where staff can list their expertise and specialties
Find people by name, location, skills or experience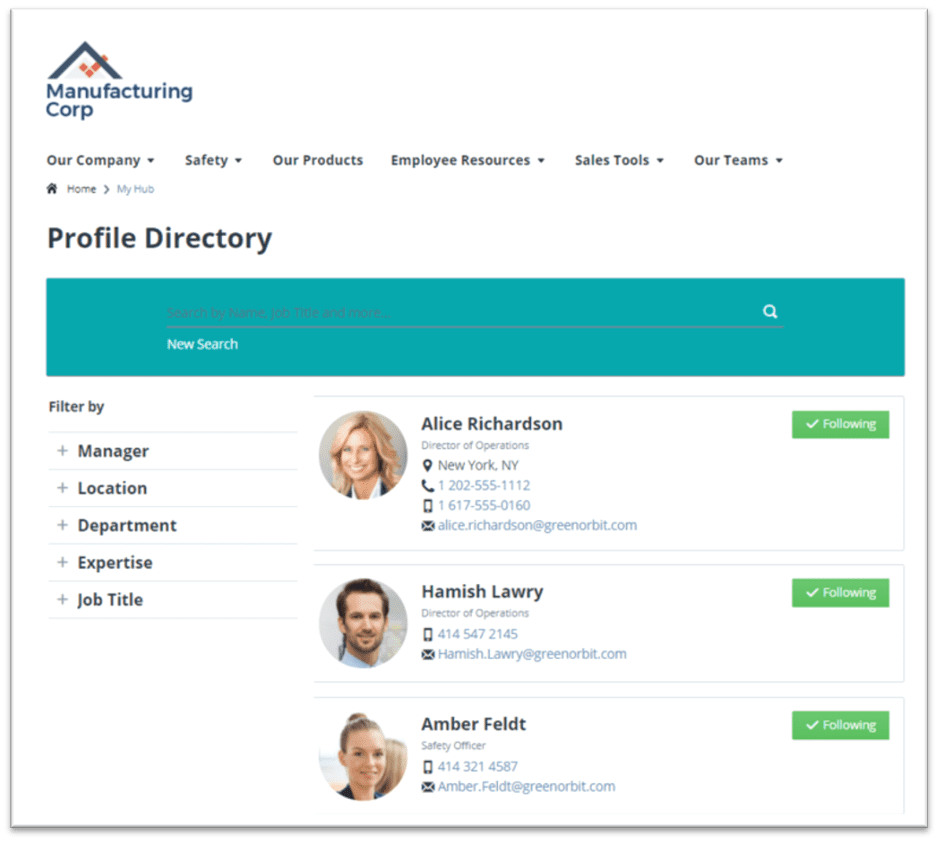 Communication and Knowledge Sharing
Keep everyone informed and headed in the right direction by putting communication tools front and center on your intranet and deliver a message that sticks.
Create news categories to communicate corporate or departmental updates. Ensure company strategy and vision are shared.
Allow your workers to see your safety record, sales figures, targets, and projections for the company. Share product news and developments, and celebrate success with everyone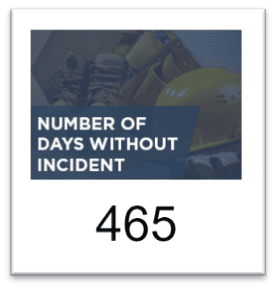 Move communication activities away from email, and into a central platform
Use corporate social networking features for one-to-one and group communication opening up extra opportunities for collaborating with your manufacturing teams.
Forms and Workflow
Move away from paper-based forms and complicated processes. With digital, user-friendly forms, the completion process is simple and quick.
Easily build forms – no technical expertise required
It dramatically shortens approval time
Apply security to lock-down who can view, submit and approve forms
Check previously submitted forms or those requiring review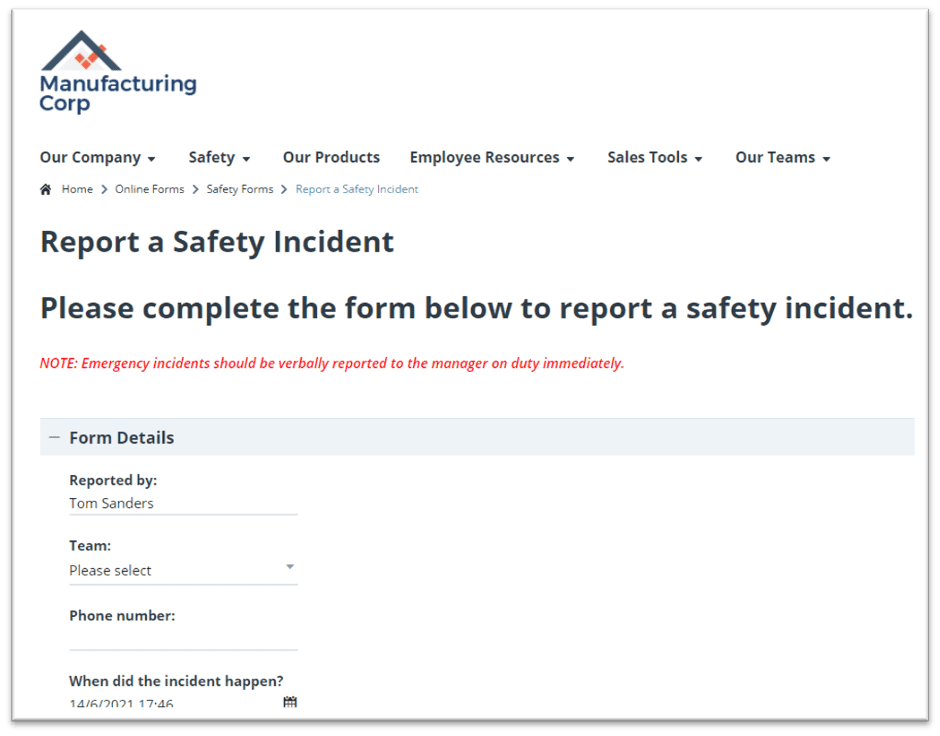 Onboarding
Effective onboarding is crucial to the overall employee experience. Make your intranet the first port-of-call for new starters. In manufacturing successful onboarding is not only a matter of engagement or productivity but also for health and safety matters. New workers in manufacturing equate to higher risk.
Upload and share your important onboarding documents, forms and images.
Consider an employee handbook where all important information is stored and accessed
Create an onboarding program using pages in your Intranet and easily setup a compliance workflow.
Mobile
A mobile intranet is now a fundamental component to the success of any modern day organization. Mobile access permits your 'factory floor' workforce access to documents, processes, forms and tasks, and allows communication to, and collaboration amongst non-office staff.
Use a mobile app to ensure everyone can access your intranet from their device of choice
Introduce push notifications, so that your frontline teams won't miss out on vital updates.
Manufacturing organizations use GreenOrbit to communicate, manage documents and streamline processes from a central platform. GreenOrbit makes information easily accessible for a manufacturing workforce, so they can produce excellent products.
Want to know more about how GreenOrbit can support your manufacturing organization? Contact the team for a personalized demo.