Do you want to know who's your manager's manager? Do you want to know who's in your department?
The org chart is a visual representation of the structure of a company, showing how various positions and roles are organized and how they relate to each other.
Here are some of the benefits of having an org chart available on your Intranet:
Clarifies roles and responsibilities: Provides a clear picture of the roles and responsibilities of everyone within an organization, which helps to avoid confusion and duplication of effort.
Helps in decision making: It helps staff identify who is responsible for what and who should be involved in decision-making processes.
Facilitates communication: Enables employees to see the reporting structure within the organization, which helps them to communicate more effectively with their colleagues and managers.
Supports growth and expansion: As organizations grow it helps to maintain a clear structure and chain of command and ensures that everyone is working towards the same goals.
A GreenOrbit Org Chart is integrated with staff profiles which means that in one click you can easily find out more about the people that work in your company, including their expertise and interests.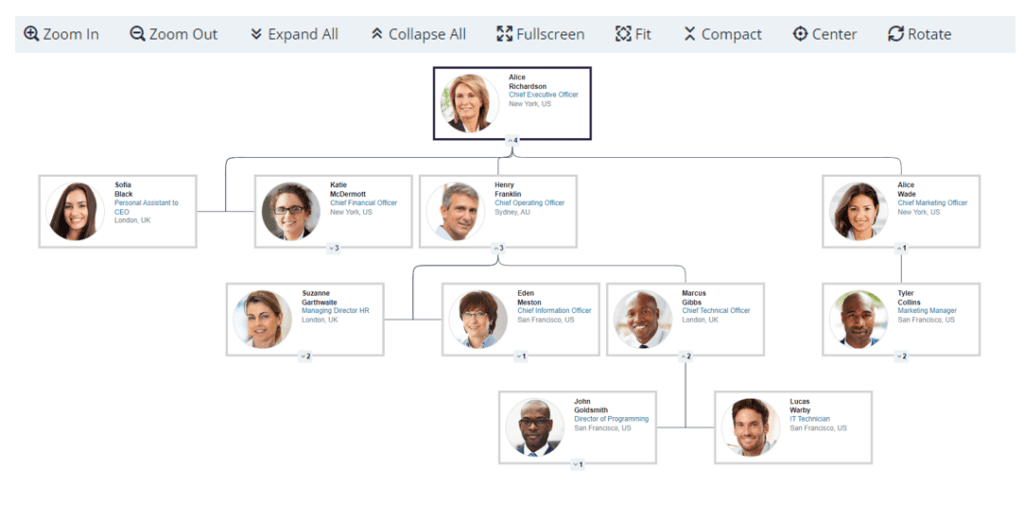 No more manual work needed! - you can update your GreenOrbit org chart with ease. The interactive chart will automatically build and draw relationships between profiles, based on the 'Manager' profile field that can be updated. For new staff, as long as they have a manager, they will automatically appear in the Org Chart. You will need to identify who is top of the hierarchy, and the rest of the chart flows from there.
Org Chart functionality includes, zooming in and out, rotating and centring the hierarchy.
Want to know more about the Org Chart in GreenOrbit, as well as other features contact a consultant for a personalized demo. https://greenorbit.com/book-a-demo/.