Last month GreenOrbit Intranet released its latest version with a set of exciting new features and functionality, one of which was improvements to user management.
Using open identity management standards, you will be able to maintain your staff directory and create, update, and for the first time, delete members profiles in the GreenOrbit profile directory.
The System for Cross-domain Identity Management (SCIM) is a standardized protocol for automating user provisioning and identity management across multiple systems and domains.
SCIM is designed to simplify user identity management in organizations that use multiple software systems, cloud services, and other applications. The protocol provides a standard way for user identity information to be exchanged between different systems, allowing administrators to easily create, update, and delete user accounts and associated information across all applications.
SCIM defines a set of REST APIs and JSON payloads for performing common identity management tasks such as creating and updating user accounts, managing user groups, and querying user information. This makes it easy for software vendors and developers to integrate SCIM support into their applications and services.
SCIM is widely adopted by leading cloud services and identity providers, such as Okta, Microsoft Azure, and Google Cloud Identity. Its adoption continues to grow as more organizations seek to simplify their identity management processes and improve security by centralizing user account management.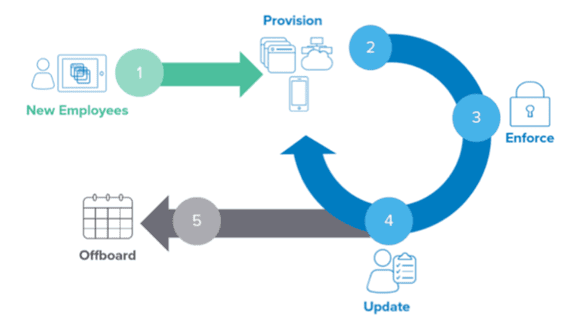 Image from Okta https://developer.okta.com/docs/concepts/scim/#what-is-scim-for
One of the main operations that the GreenOrbit team have been getting customer feedback for is the ability to delete users on Active Directory (or how you have it configured) and it will seamlessly delete the profile on GreenOrbit as well. Some of the other operations this will include are:
Update a user.
Add a user.
Bulk add users.
Bulk update users.
Bulk delete users.
Add Groups.
Update Groups.
Delete groups.
Search for Resources.
Get Schemas.
Get Service Provider Configuration.
GreenOrbit continuously innovates and improves its out of the box intranet software with an eye on the future, ensuring that the technology remains relevant and meets the needs of an ever-evolving organizations. Interested in how GreenOrbit can support your company, contact our team of experts to book a consultation and demo.