Unless you've been living under a corporate rock, you know that Employee Engagement is crucial to business success.
Countless studies prove that it encourages innovation and increases productivity.
It's also common knowledge that engaged employees deliver a positive customer experience and stand up as ambassadors for your employer brand.
Most importantly, they drive profitable business growth.
But Employee Engagement is a journey, not a destination - so it makes good sense to look for cost-effective ways to engage your people on the daily.
Here are 15 low cost strategies to get you started.
1. The Essentials
Before you can address the more complex factors of employee engagement, you'll
need to get the basic 'hygiene factors' sorted out.
No, we're not talking about clean bathrooms (although these are super important).
We're talking about the fundamentals of job satisfaction - things like pay, benefits, safe working conditions and job security. Without these, your employee engagement efforts are doomed to fail - no matter how many perks, bonuses or carrots you dangle.
Give people the right conditions and access to the tools they'll need to get their work done.
2. Environment
You don't need to install a Google-style golf course to make a tangible impact on employee engagement in your workplace.
Focus on the small but effective wins.
Common indoor plants are 'feel-good factories' that can calm stress and boost mood. According to NASA, they also filter the harmful toxins that plague our synthetic-filled offices.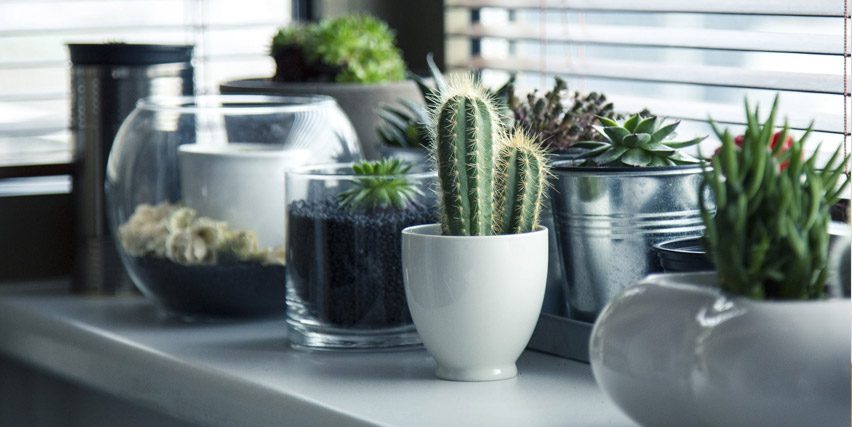 A recent study by the American Society of Interior Designers showed that 68% of employees are dissatisfied with the lighting at work - too dim and it strains the eyes, too harsh and it causes headaches and fatigue.
So unless you're working for Vampires Inc - it's worth assessing the lighting in your office to see if you could make use of task lamps and dimmer switches or improve access to natural light.
As far as other essentials go, never underestimate the miraculous power of good coffee and healthy snacks.
3. Clear values
In an ideal world, engaged employees work for more than just a pay cheque - they work to achieve your organisation's mission.Using the tools you have at hand, you can make sure that people understand the mission and feel connected to it.
Make your values visible - on your website, your company intranet, on the walls of your building, everywhere!
Regularly talk about these values in meetings and CEO addresses, and how new projects and tasks will serve to uphold them.
Publicly recognize staff who best represent your values in the work they do
4. Transparency
Transparency isn't just good ethics - it's good business.
Research shows that organizational transparency is the highest determining factor of employee happiness. So, it's time to start sharing!
Open communication between management and employees establishes a relationship built on trust. And when there is trust - there is an emotional commitment to the company.
The best thing about transparency is that it's completely free. Here are some ideas to get started:
Encourage regular communication from your CEO, whether it be a weekly internal blog post or a news article.
Share stories of what's happened around the business that week, particularly within upper management, and tie it back to your organizational mission.
Host a quarterly company-wide meeting to discuss upcoming developments, departmental updates, strategic objectives and initiatives, and financial performance.
5. Recognition
It can be difficult to 'switch off', and many of us take home some of the feelings we experience at work.
Essentially, the happier our work experience is, the happier we are.
One of the most powerful determinants of employee happiness is simply being thanked. And what are the other effects of leaders acknowledging staff's efforts?
Employees feel a stronger connection to those leaders. Culture expert, William Craig, reports that "90 percent of employees who received recognition from their boss in the past month indicated higher levels of trust in that boss. Among employees who received no recognition, only 48 percent indicated they trusted their higher-ups."
So, how can you start saying thanks?
In meetings, verbally thank employees that contribute strong ideas or that actively demonstrate your core company values.
For exemplary work, send a thank you email to the employee and CC a relevant manager or leader.
If you have an Enterprise Social Network or intranet, give the employee a 'shout out' in the appropriate forum.
6. Have a voice
Disengaged employees adopt the mindset that "What I say doesn't matter." In contrast, an engaged employee contributes their ideas, and is confident that they will be heard respectfully. When employees give feedback, it shows that they truly care about the direction of the project or organization.
In meetings, leaders should encourage two-way communication. Ask questions and show that you value the input of others. Where appropriate, action suggestions and credit the contributing staff member.
A well-designed intranet is another fantastic way to enable communication across all corners of your business and to help employees find their voice. To encourage adoption, set clear guidelines around which conversations should happen where and what kind of content is appropriate. Have senior staff lead by example via regular contributions and to respond to posts where appropriate - remember, there's only value in staff voicing their ideas if you're actually listening.
7. Relationships
Harvard Business Review reports that close friendships with colleagues boosts employee satisfaction by 50% and "People with a best friend at work are seven times more likely to engage fully in their work."
Help facilitate employee connections by:
Encouraging staff to connect with their colleagues by offering communal spaces, team lunches and outside of work activities.
Forming a team to enter a fundraising event or a social sporting competition to help personal connections flourish.
Assigning a mentor or 'buddy' to each new starter - a great way to build relationships and share knowledge.
8. Social cause
A 2017 survey by O.C. Tanner found that "Charitable giving is an opportunity for companies to reinforce their purpose - their greater cause, beyond just products and services- and help employees connect to that purpose."
The data further confirmed that when employees participate in corporate charity, 78 percent of employees express support for their company values.
To get started, you might enter a team in a fun-run, hold a fundraising event, or volunteer at a local shelter.
9. Mental health support
With 6.7 percent of US adults having at least one period of severe depression per year, a 2003 study by Stewart, et al found that mental illness costs business approximately $225 billion annually. Those battling the black dog are likely to struggle to feel passionate about their work or perform at their best.
Any mental health initiative must be authentic to be successful. People can sense insincerity from a mile away, so don't offer to help if you have no intention of following through. Instead, put tangible measures in place to support your staff.
Let's look at some actionable ideas to supporting your team:
Run an anxiety management or mindfulness workshop.
Embrace initiatives such as World Mental Health Day and direct employees to who they can talk to for help.
For those that are suffering - work with them to put a plan in place, including provisions for time off to attend counselling/treatment.
Encourage employees to keep an eye out for each other, and reward those that demonstrate camaraderie.
10. Wellness initiatives
The ROI of investing in the health of your staff can be seen beyond just employee engagement levels.
Harvard Business Review found that, on average, employers who invested in health and wellness initiatives reaped $6 in healthcare savings for every dollar invested.
For employees, wellness initiatives such as office yoga classes, gym membership deals or step challenges, are both enjoyable and beneficial for their overall health.It shows that you care about staff wellbeing, - and makes people feel supported and appreciated.
11. Inclusion
Embracing gender, cultural and LGBT diversity within the workplace is key to creating a vibrant, innovative workforce that can tend to a broad range of customers' needs. In fact, businesses that operate in an inclusive culture outperform others by an incredible 80 percent.
For staff, it goes without saying that feeling safe, accepted and respected is imperative if they are to be engaged, and thus high performing, at work. Stephen Frost, author of The Inclusion Imperative, writes that "When LGBT people remain in the closet, they are 10 percent less productive than when they feel able to be themselves."
Steps you can take to achieve inclusion:
Incorporate diversity into your key business values, and promote this internally and externally. Your company intranet is a great place to share this.
Celebrate initiatives such as Multicultural Diversity Day. At GreenOrbit, we got in the spirit by each bringing a traditional dish to share with each other at lunch!
At work events, such as your end of year celebrations, encourage staff to bring their partners and families.
12. Rewards
Too often, incentives are used as a Band-Aid solution for employee engagement. Having read this far through the article, you'll now know that employee engagement is a complex beast. While these initiatives undoubtedly have their time and place, they form a piece of a much larger puzzle. Rewards should be reserved for engaged employees who exceed performance expectations.


Rewards should be reserved for engaged employees who exceed performance expectations, rather than as merely an incentive for under-performing staff to get their act together. Everybody loves cash, but there are plenty of 'money can't buy' rewards that will truly excite and engage your team.
Jeff Haden, author of The Motivation Myth: How High Achievers Really Set Themselves Up to Win, suggests:
Lunch with the CEO: This provides a rare opportunity for the employee to network with a senior leader and share their ideas and thoughts. On the flipside, your CEO gets to connect with staff they might not know well, and gain insight to the business from another perspective.
The premier parking spot: Let the high-performing employee park in the best parking spot for a week. Jeff suggests even placing a small sign with their name on it to make it 'official' and to really highlight your appreciation.
Free team lunch: Let your employee choose where they'd like to go, and bring their workmates along with them. They will get to enjoy their favourite food and connect with their team in a relaxed setting, strengthening their relationships.
13. Work flexibility
Gallup has consistently found that "Flexible scheduling and work-from-home opportunities play a major role in an employee's decision to take or leave a job."
In fact, 64% of employees would choose a lower paying job if they could work away from the office just 1 day a week.
Why?
Because balancing work and life is hard. By offering flexible hours, people are able to work when and where they feel most productive. They can easier balance family commitments and other passions while they work, alleviating stress to increase their quality of life.
14. Education
Investing in the education of your staff is crucial to helping them grow and develop. In turn, your business will reap the rewards of their new-found skills.
So where do you start?
One of the easiest ways to educate your team is to provide online training, allowing staff to complete learning in their own time, while it's both easier and more affordable for managers to create.
If running courses internally is not an option, there's plethora of free online qualifications that staff can complete. Gather a team and schedule a meeting each week to work through the course together.
15. Career development
The LinkedIn Global Job Seeker Trends Report states that the number one reason employees leave jobs is due to a lack of career progression opportunities - and the top draw card for a new role is the ability to progress their career.
As discussed above, education plays a big part in this and is a great first step to building skillsets and experience. Commit to annual performance reviews and quarterly informal catch ups to provide feedback and direction to employees - ask them where they'd like to progress in their career, and define a pathway with KPIs to help guide them there.
A great way to encourage staff to adopt a long-term vision is to highlight the stories of those that have forged a successful path within your business. This might be in the form of networking events, as part of a podcast or a video series on your staff intranet.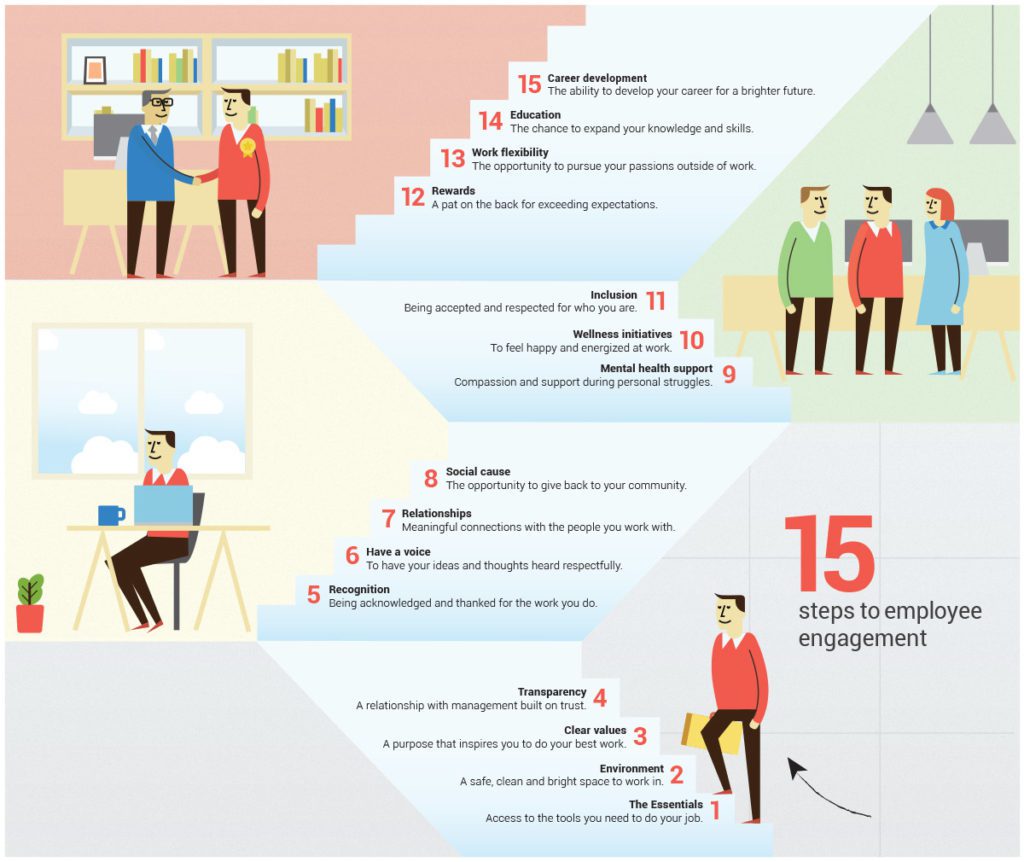 When it comes to employee engagement, the results speak for themselves; productivity and profitability rise, while turnover and absenteeism decreases. A commitment to employee engagement really is a commitment to success.
Remember, seeing and treating your employees as a collective group of humans is the first and most important step.
From there, wholeheartedly and consistently practising these 15 tips will ingrain employee engagement in your culture.