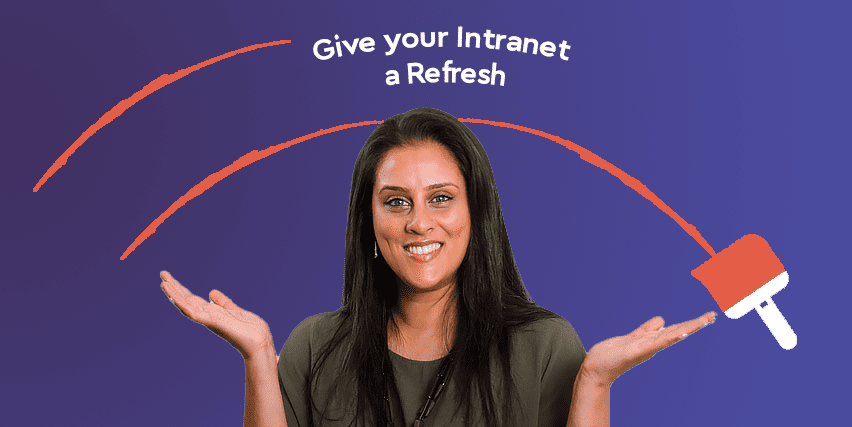 Whether the leaves are starting to fall from the trees, or the flowers are getting ready to bloom, your intranet should also be going through a transformation of its own! Now is the perfect time to review and reflect on how your company intranet is engaging your employees and delivering on your business goals.
One of the biggest causes of failure with intranets is allowing them to become stagnant and outdated. To have an engaging and dynamic intranet, you need to have engaged employees ready to champion the cause! An Intranet Refresh doesn't need to be a huge undertaking – so get your Intranet Champions together and let's make a plan!
Investigate
First things first, you'll need to establish what is and isn't working within your site. Consulting both qualitative and quantitative data will provide you with a strong basis to implement people-centric changes. So, it's time to put your detective hat on and find out what your staff really think about their intranet.
Survey - Create a survey using GreenOrbit's Online Forms to gauge what your employees love and the stuff that needs some work. Ask a range of open and closed questions regarding the site structure, the content, the effectiveness of tools and the outcomes they facilitate. Do they actually enjoy using the intranet? Is it making their life easier? What's missing?
#Channel - GreenOrbit #Channels are based on the topics of conversation that matter to your business. Create an #IntranetFeedback channel so that staff can post their experiences and ideas, when and where they arise. This is a super simple way to receive feedback from employees that can be incredibly effective. When it's time to get down to the business of making updates, you can simply visit the #Channel and review the contributions and prioritise what you'll implement and when.
Intranet Analytics - Validate your employee feedback with some cold hard facts. Which pages are being viewed the most and least? What does the overall site traffic tell you? What are the search terms? How can you make this content easier to find?
Review
Now that you've done your research, it's time to put it to good use. Revise your intranet strategy and KPIs and adjust accordingly. Establish priority tasks and how they will be completed. Once you know 'what', move on to the 'who.' Who will be responsible for which tasks? Who will need to manage the new content moving forward? Content Ownership is imperative, without it you'll be heading back down the same road.
This phase will include removing the redundant intranet content. If you have an existing policy regarding the deletion of digital assets, then you'll obviously need to follow this. If not, archive the old content initially to ensure no information is lost before there is an approved plan in place.
Get Inspired
A large body of the work will come from improving existing items and simple changes- which is great. But don't forget to be bold. Produce exciting, innovative ideas that are going to give your intranet the X-factor and engage users. It might be the introduction of a monthly CEO Podcast, an employee recognition initiative, or a mindfulness campaign. Make a commitment to including a more varied set of content types, i.e. audio, visual as well as text and/or image-based. Get creative!
Plan Your Maintenance
With your refresh complete, you'll need to figure out how you're going to keep things tidy. If you don't already have a maintenance plan in place, schedule how often you'll need to conduct reviews, analyse stats and meet with your team. GreenOrbit content can have expiry dates set to serve as reminders to Content Owners to refresh their content at regular intervals. By having your #IntranetFeedback channel in place, staff can always contribute their ideas to help continue to improve your site.
By following these simple tips, your employee intranet will be flourishing in no time. Don't forget, GreenOrbit customers receive a free 1hr intranet health check consultation each year and there's no better time to use it than now!
Not using GreenOrbit yet? No worries. You can make time to speak with one of our GreenOrbit Intranet Specialists to discover the benefits for yourself.