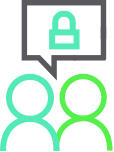 Collaborate in a private space
Reduce email traffic and improve team collaboration by providing a secure and private discussion area to share messages, files and media with your colleagues.

Create private groups for your department, project team or anyone you need to securely communicate with. You create the group – and you own it. Only invited employees can access the content, files or discussions and they are automatically allowed to view or post content.
Pin your private groups for easy access
Be notified when there is a new post
Add members to a private group and send an email to notify