As more businesses strive for digital transformation, it is high time you explore the benefits of the intranet. To those who might not know, an intranet is a local or restricted network used for communication, collaboration, and information dissemination within an organization.
In fact, a study by Deloitte shows that an intranet is one of the most essential tools for your digital workplace.
Over time, your intranet content can become an overwhelming volume to manage. You need an efficient intranet content management system to ensure that your content can remain an effective tool for engagement and communication within your organization. To do so, here are some intranet content management best practices to keep it under control.
1. Create an intranet content management strategy
The key to any successful implementation is strategy. Having a solid strategy can guide and direct you on how you want your intranet content management to work. This involves defining specific goals and outlining plans for creating and delivering content.
The first step in strategy-making is to identify and classify your users. Find out and understand their needs, motivations, and behaviors. This will give you an idea of what type of content is useful for them and the potential challenges your intranet might face.
You should also consider creating a dedicated team for managing your intranet content. This team will be in charge of overseeing the implementation and maintenance of your intranet. There are various roles to consider when building an intranet team, such as the stakeholders, the content owner, publishers and support.
2. Establish guidelines for content management
Aside from setting up realistic goals, you must also make sure your employees are guided accordingly on how they can achieve said goals. You should also establish guidelines for intranet content management. This will serve as the best practices for intranet content creation and management that users should follow.
To help you establish your guidelines, you must first assess and understand the lifecycle of intranet content. It is as follows:
Creation – This refers to the planning, writing, and approval process of content for the intranet
Publishing – This includes inputting content into a template, adding keywords and metadata, managing versions, and optimizing content delivery.
Management – This is the part where you manage and review user access to content. You determine who can control content, such as deleting and archiving content based on its relevance.
3. Make content accessible
According to research by Microsoft, the top two challenges within a digital workplace are collaboration and information sharing. Your employees need to be able to find relevant information and documents to remain productive and efficient. So you must consider putting essential content in a central library to ensure accessibility for everyone within your organization.
Rather than having disparate applications and programs to create and manage content, centralize everything in one platform. This ensures consistency for your employees so they won't scramble around not knowing where to find relevant documents and forms. This also allows you to bridge the gaps in your compliance by providing up-to-date information to your employees.
Fortunately, modern intranet systems provide centralized access to important resources from any location and devices. This makes information accessible in real-time for all employees—whether they are working remotely or not.
4. Organize and group content
Making content accessible is different from making it findable. Having all relevant documents, forms, information, and procedures in one platform may be convenient, but it can also get messy especially if there are just too many.
Organize your content so your employees can easily retrieve the information they need. You can start by grouping similar content together. For example, all policies fall under one category. And then you can create sub-categories containing policies on specific topics or departments.
Moreover, you can also make content searchable by tagging. This way, your employees don't have to go over multiple folders and files to get the information they need. They only have to type in the keywords for the content they are looking for, and it will immediately show up.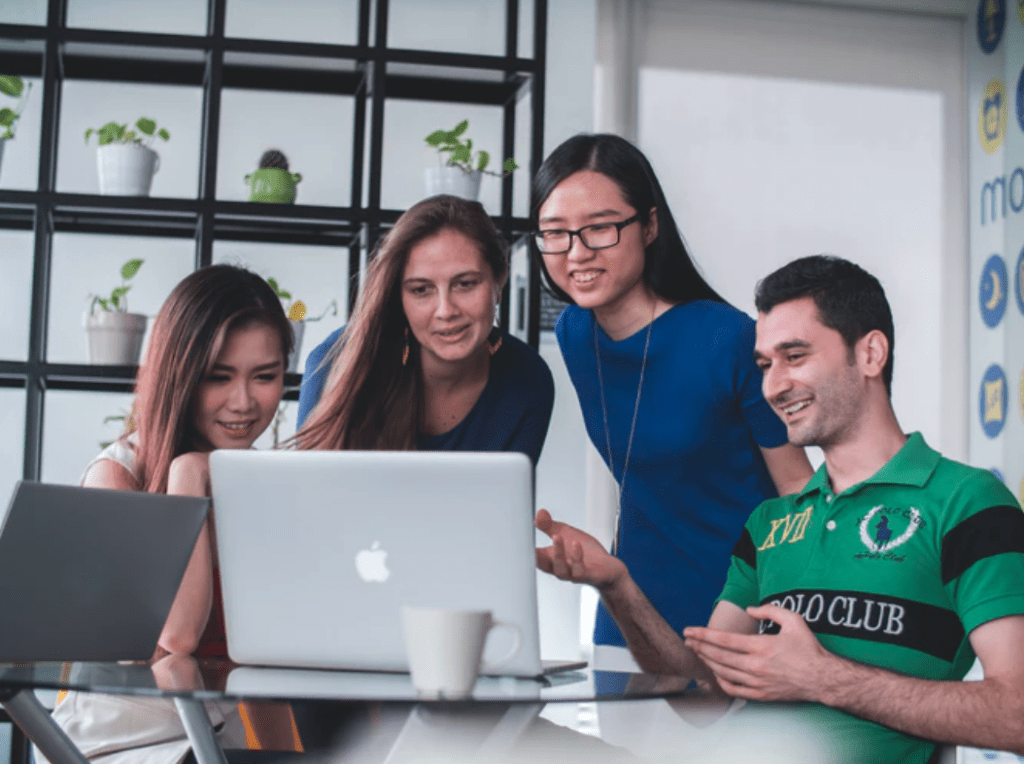 5. Delegate ownership and responsibilities
Managing intranet content is a shared responsibility across departments within an organization. However, you must be clear about their assigned roles so they can take ownership of the content that their department produces and needs.
Assigning ownership to content can empower and mobilize your team to create fresh content on their own. This also allows them to self-manage their profiles, documents, and procedures and make sure they are updated accordingly.
By delegating content management and authorship, teams or departments can develop their own workflows. This also allows you to introduce a sense of accountability and boost collaboration among your employees at the same time.
6. Choose the right solution
Nowadays, there are numerous packaged intranet solutions to choose from. Each one provides a unique set of communication and collaboration tools for your organization. While there is no such thing as a "correct" intranet content management solution, you must still consider your options carefully to find the right one for your organization.
Narrow down your list by basing your search on what your organization needs and demands. Consider your company goals, culture, and how it operates. You need a solution that can reflect your identity as an organization and incorporate it into your digital workplace.
You need a faster, higher, and stronger intranet solution like GreenOrbit to foster unity within your workplace. It is highly customizable, allowing you to tailor fit the way your intranet looks and works. This includes the design and layout of your system, its functionalities, and its experience.
7. Leverage data and analytics
Your intranet CMS is always a work in progress. As your organization produces more content, the more your intranet continues to grow. You need to always keep an eye on it to make sure that everything still works as intended or if it needs some new changes along the way.
The best way to do that is to monitor and analyze user engagement. This gives you insights into their behaviors, activities, and usage within the intranet. Alternatively, you can also ask for direct feedback from your employees to help you determine what areas to improve on.
Leveraging intranet analytics can give you the data you need to evaluate ROI and make informed decisions on the direction you wish to take with your intranet adoption. For example, you have noticed that some content isn't performing well. Rather than letting it clutter your intranet, you can choose to archive or delete them entirely to save up space.
Diving into the intranet
The intranet can become a powerful tool for streamlining communication, collaboration, and information sharing within your organization. But for it to become one, you need the right strategy and tools for intranet content management and creation.
Businesses aren't the only ones who can benefit from the intranet. Other fields can utilize this to their advantage as well. For example, educational institutions can use intranet to keep students, staff, instructors, and administrators connected. In fact, the different types of education degree are training future instructors on how to leverage technologies such as the intranet to improve their collaboration and communication with their students.
So go ahead and explore what technology you can use to optimize your intranet. To start, check out software like GreenOrbit to find out more about the benefits of intranet content management systems.