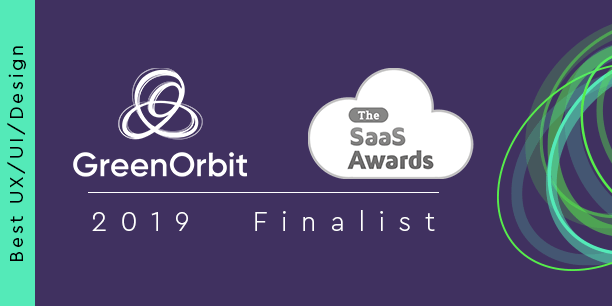 At GreenOrbit, we are always finding ways to make our intranet software more helpful and useful for everyone. We battle with ease of use, good design, and ensuring your intranet looks great on any laptop, phone, or tablet. In doing so, we listen to you, our customers, to recognize and identify what you want and what we can do better. As a result, we are constantly reviewing, testing, and enhancing the GreenOrbit software.
Well, it looks like your feedback and our hard work has paid off.
Announced on July 30, 2019, GreenOrbit was shortlisted for the 2019 SaaS Awards for best UX/UI/Design in a SaaS product category. (UX stands for User Experience – the experience of using the software, and UI stands for User Interface – how the software looks)
What is SaaS (and why you should care)?
SaaS stands for Software as a Service. SaaS is one of the three major categories of cloud services, along with infrastructure-as-a-service (IaaS) and platform-as-a-service (PaaS). SaaS is also known as hosted software or on-demand software. It is a distribution model for software, whereby instead of downloading the software to run locally on your PC, the software is hosted by a third-party provider. People then access it over the internet, typically through a web browser.
What are the SaaS Awards?
The SaaS Awards are a sister program to the Cloud Awards. In 2016, the Cloud Awards was augmented with the SaaS Awards recognition platform to more fully represent the breadth of cloud services available as software solutions. The SaaS Awards celebrate SaaS solutions across public clouds, as well as alongside private, single-tenant solutions, off-premise or on-premise. Visit the SaaS Awards website to find out more.
Creative freedom with GreenOrbit's UX/UI/Design
Do you want intranet software that not only looks great, but allows for customization? Do you want an intranet that allows collaboration and is easy to use?
Great, these are just some of the things making GreenOrbit unique and different:
One of the key differences of GreenOrbit's intranet software is the UX and UI of the product. Not only have we implemented an underlying framework, grid, and design system to ensure the product looks amazing and is cohesive, we have also built it in such a way that we give total creative freedom to you regarding the design and layout of your intranet.
Competitor products come pre-loaded with rigid templates that either are not editable, or are only editable as a bespoke service at a significant cost. Our competitors either have no customization, or at best a rigid 2 or 3 column system.
GreenOrbit is the Lego of intranets – using an easy drag and drop interface and template builder, the imagination is the limit when it comes to layout, design, and structure.
Our standard package also includes a custom color theme, which is created based on your brand's style guide. This is established in consultation with our Customer Success team and in-house visual design experts.
This results in each intranet being deployed with a completely unique look, feel, and structure to suit your business, brand, and internal communication goals.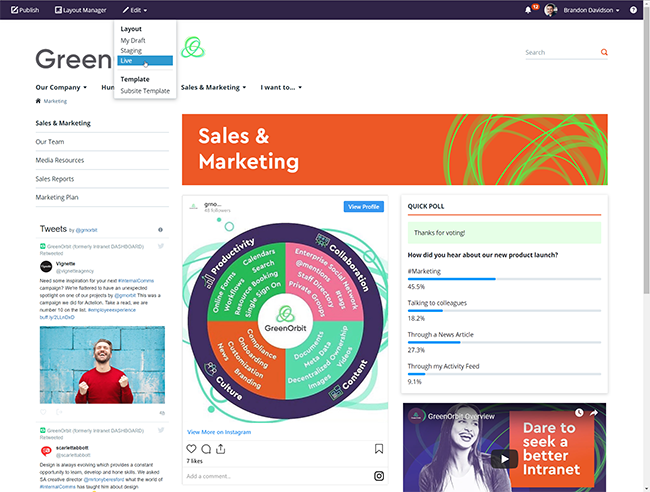 Ability to edit a page layout as Draft, Staging, or the Live Version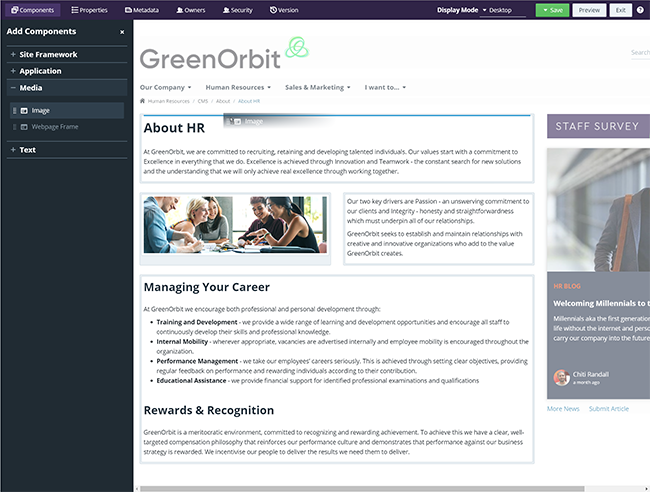 Layout Manager Experience – easy drag and drop
UI/UX problems faced
Designing great UI/UX in our intranet software is often challenging, but that's how we like it. The solutions implemented, we're pleased to say, have clearly impressed the SaaS Award judges.
GreenOrbit is built on the existing market knowledge of 30+ years of its predecessor and the widely popular IntranetDashboard (iD) platform. Nonetheless, there were challenges in keeping the best of iD and discovering the new for GreenOrbit.
Challenges addressed and overcome
The main challenge was to find the balance between ensuring visual consistency, while allowing creative freedom to you, our customers. If we made every component identical in its UI, we could achieve perfect visual consistency, but everything would also look the same. You would then end up with a boring and plain intranet.
We also wanted the design of our intranet software to be incredibly flexible with regard to page layouts, allowing you to create your own page structures without the need to know any coding skills. At the same time, we needed to ensure an overall design consistency so that no matter what layout you came up with, the final product would always look great and have a fantastic UX flow.
Additionally, GreenOrbit is highly complex in regards to what you can do and how you can access content based on multi-tiered security levels. A key design challenge was how to make actionable and editable functionality visible to you. We overcame this challenge through usability testing and customer research to arrive at an answer of multi-tiered action menus and bars positioned relative to the content which you have editing rights to.
Our intranet software has three main access areas for editing content:
A 'Top Toolbar' provides main layout editing access. Here you can also access your personal profile.
A 'Context Menu', visible only to those with editing rights and positioned in-line with the content you can edit.
A 'Data Grid' list of selectable actions for Document and Media resource management–visible only when an item is selected.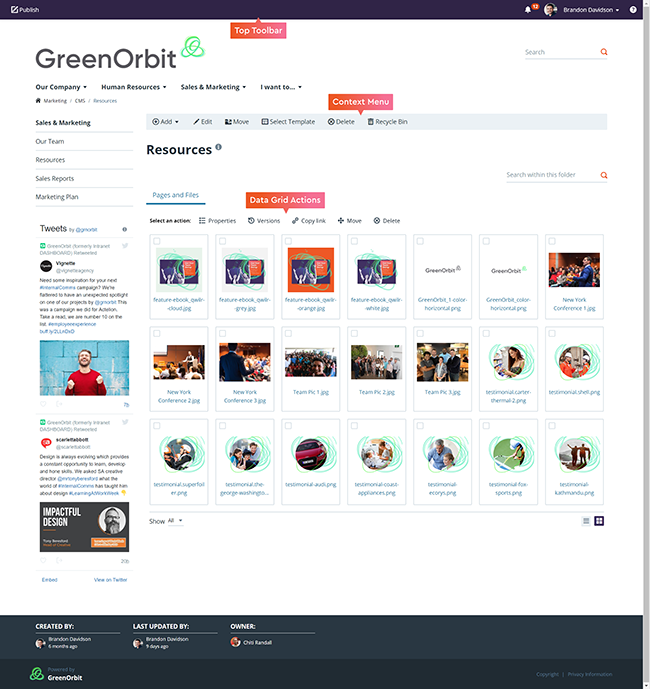 Multi-tiered action menus
GreenOrbit's design solutions
A lot of work goes into the background development and market research of GreenOrbit's intranet software. Here are some of the solutions we have implemented to ensure our software is dynamic, visually rich, and engaging:
Identifying 'hero' components that get enhanced visual treatment, increasing their prominence on the page.
Creating multiple variations of some design elements (for example: Headers of Components) – so that we could combine them uniquely for variety and interest without losing page hierarchy.
Implementing a strict underlying 8px grid. No matter where something is placed, it will always sit on the grid ensuring visual cohesion, flow and rhythm.
Completed an overhaul and UX re-imagining of the page layout creation interface. If you can use Word, you can use our Layout Tool. Add rows and columns, merge cells, drag and drop components on the page, preview the design, lock down areas as part of the page template, and make them non-editable – all at the click of a button! It is easy to use and easy to implement. We provide consistency and ease-of-use tools like formatting and simple drag and drop components.
SaaS product design and the future of UI and UX
(Hint: It's not about us — it's about you)
GreenOrbit's product design is different and unique for the following tangible reasons:
Our intranet places creative power into your hands allowing you to use and deploy GreenOrbit in your organization. We do not prescribe how you might need or want to use the product. Want an intranet landing page that is image rich? No worries. Want an intranet landing page that features multiple news feeds heavily? Not a problem. Want an intranet that is the launching pad with many quicklinks feeding off? Done.
It allows every business to be unique in their communication needs and does not restrict the way you publish, circulate, or broadcast your information.
Our intranet does not limit the number of columns you can create, how many components are on a page, how long a page is, and what layouts you should use.
Each installation has its own unique theme and you can have as many themes as you desire. This is important for companies that need collaboration across many brands, destinations, or separate departments under one corporation. For example, CottonOn Group have unique themes for their brands such as: Rubi Shoes, Factorie, Typo, Supre, CottonOn Kids, and CottonOn Body.
"Our relationship with our dealers is important. We are asking them to use the portal as the platform to communicate with us, so we have to ensure it is easy to use and offers a first rate experience…GreenOrbit delivered all the tools we needed to support our dealer communication, in a cost effective and easy to use package. We're very happy with it, but more importantly, our dealers are happy."

- Audi
Our intranet allows you to engage with a SaaS product that is truly your own. Once a unique branded intranet is in place, most employees using the intranet have no idea it is GreenOrbit driving their experience. They think of it as an extension of their company and brand.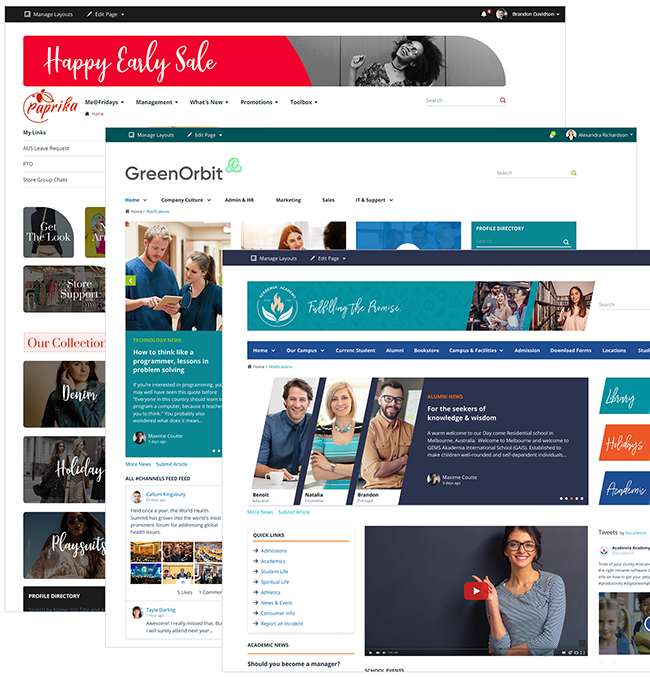 Visual examples of unique intranet designs built using GreenOrbit
2019 SaaS winners to be announced
Final SaaS Award winners will be announced on Tuesday 27 August 2019 and the program will return in Spring 2020. Over 400 organizations entered, with international entries coming from North America, Canada, Australia, UK, Europe, and the Middle East. View the full 2019 SaaS Awards shortlist.
There are a lot of great categories in the 2019 SaaS Awards and it wasn't easy to become finalists. SaaS Awards and Cloud Awards organizer Larry Johnson said: "The standard of entries this year was incredibly high, with consistent attention to innovation and most importantly, customer success. The volume of entries warranting consideration of a place on the coveted shortlist was unprecedented."
We are glad to be in great company with other companies and in the same category for UX/UI/Design such as:
Veritas
Pitney Bowes (EngageOne Converse)
IBM (Blockchain Platform)
Ambi
Amongst others.
Best of luck to everyone!
Want more GreenOrbit?
Would you like to see how you can drive your business when implementing and enjoying the UX/UI/Design of GreenOrbit's intranet software? Download our case studies here.
Do you have more questions around our intranet software? Request a demo.