Giving the best digital employee experience [EXP] to workers is a current hot talking point and getting a lot of attention in recent times.
Employee experience is the way employees feel at and about their work; generally this covers elements such as wellbeing and health. How easy is it to socialize and collaborate? And most important is the ability to access the things they need to do their job. A positive employee experience is when you have engaged staff with an emotional commitment to tasks and achieving targets. Companies that invest in their employees' experience will ultimately reap the benefits and lay the foundations for a smarter, faster, better business.
With remote working here to stay, staff need a few simple tools to help them stay connected and maintain the company culture.
Employees should expect to have the same experience at work as they do from other experiences they may have as a consumer. Employee experience is integral to every stage of the employee lifecycle, although the nature of them may change dependent on where they are in the journey.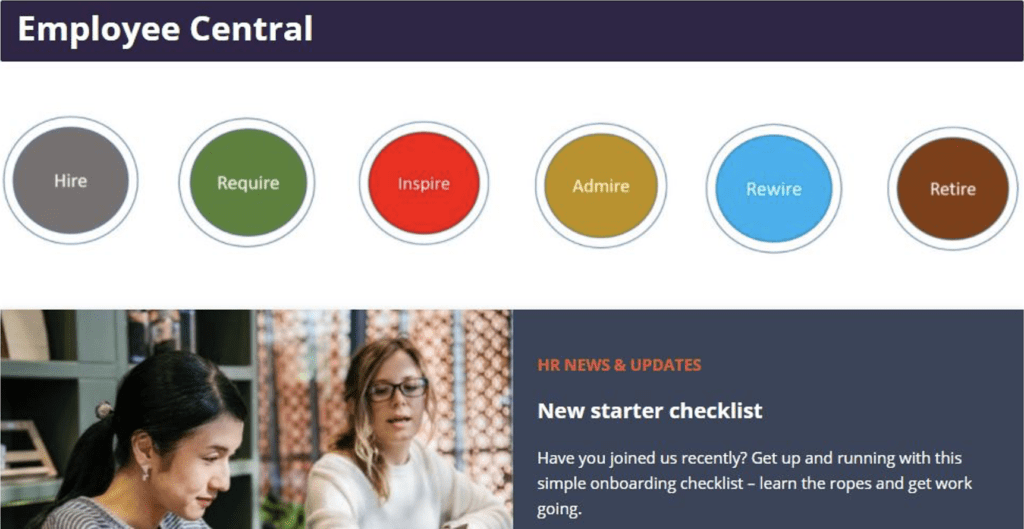 We thought we would look at how customer service traits generally directed externally to the company are transferrable to a workplace through the medium of your Intranet
Greet with a smile.
Greeting your employees' with something uplifting when they log on in the morning will start the day on a good note and will elevate people's mood. Examples of this could be good news, staff achievements or pictures from the Friday night social. Customise your Intranet, so that employees are greeted with something delightful to look at.
Communicate clearly
Clarity in communication is paramount, it effects so many elements of employees' working life. From communicating the latest company news to conveying instructions on a new process, use positive language throughout as the use of positive words can lead to good interactions and higher acceptance rates. Tone of voice is also important when it comes to making staff feel at ease, assured and happy.
Be responsive
It's important to respond quickly, be sure to optimise your information architecture so that key information can be accessed with minimal clicks, and make sure your search is configured to return results quickly with a high level of recall and precision. Use Analytics to examine user journeys and improve responsiveness regularly over time
Give employees what they expect.
Modern employees are after more from a company than just a salary. They need to know where they fit in the big picture - regularly communicating immediate and long-term business goals can help employees feel a greater sense of purpose and find meaning in the work they do – publish your strategy prominently, and regularly update where the company is in achieving it . Employees need a way to contribute to the company culture; water cooler moments, town halls and gatherings are not happening right now so this could be achieved through contributing to online conservations.
Make employees feel important.
This can be done right from the outset. Having a great onboarding process on your intranet is an absolute must. An employee's first few days at a company will send a significant message about what their experience will be like going forward. As that person grows in their new role, recognition of a job well done is always a wonderful thing, it doesn't cost anything, and it takes very little time to say "thank you."
Ask for feedback.
You may be surprised what you learn about the workplace when you ask your employees what they think. After this information has been gathered it should be acted on to improve the workplace. You could use customer surveys, feedback forms, or quick polls to gather the comments.
Provide multi-channel
Give your employees the information they deserve, however they want to access it. Make sure desk-less workers have access to a mobile version of your Intranet.
Your greatest assets are your employees, surely they deserve a great intranet to deliver exceptional experiences whether in the office or working at home.